5 Noviembre, 2018
Seminario: "TRANSIT SERVICE QUALITY EVALUATION METHODS AND RESEARCH TRENDS"
Mañana se llevará a cabo el Seminario "TRANSIT SERVICE QUALITY EVALUATION METHODS AND RESEARCH TRENDS" a cargo de la Profesora Gabriella Mazzulla, el cual se llevará a cabo en la sala de reuniones del Ala Norte. Mas información a continuación.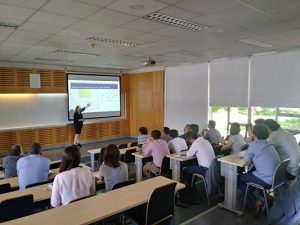 Quedan todos invitados!
GABRIELLA MAZZULLA, DEPARTMENT OF CIVIL ENGINEERING, UNIVERSITY OF CALABRIA, ITALY
TÍTULO: "TRANSIT SERVICE QUALITY EVALUATION METHODS AND RESEARCH TRENDS"
LUGAR: Sala de reuniones del Ala Norte, Departamento de Ingeniería de Transporte y Logística
Nuevo LUGAR: Sala B15
FECHA: martes 6 de noviembre, 2018 a las 14:00 hrs
ABSTRACT
The seminar is oriented to introduce Transit Service Quality paradigm and the basic concepts about quality levels evaluation of services provided by transit operators.
Measurements methods usually adopted for analyzing Transit Service Quality from both customers and service provider point-of-views are described. The seminar is mainly focused on the evaluation of transit service quality on the basis of passengers' opinions. The methods of survey mainly adopted for collecting transit passengers' perceptions are introduced, and the most adopted and conventient methods of analysis of the data are described. More specifically, the argumentation is focused on two main approches, which are particularly appropriate for analysing Transit Service Quality: Structural Equation Modelling and Econometric Models. A comparison between the two approaches is proposed.
Finally, new trends in evaluation and analysing Transit Service Quality are introduced and briefly described with references to the past research studies on this topic.