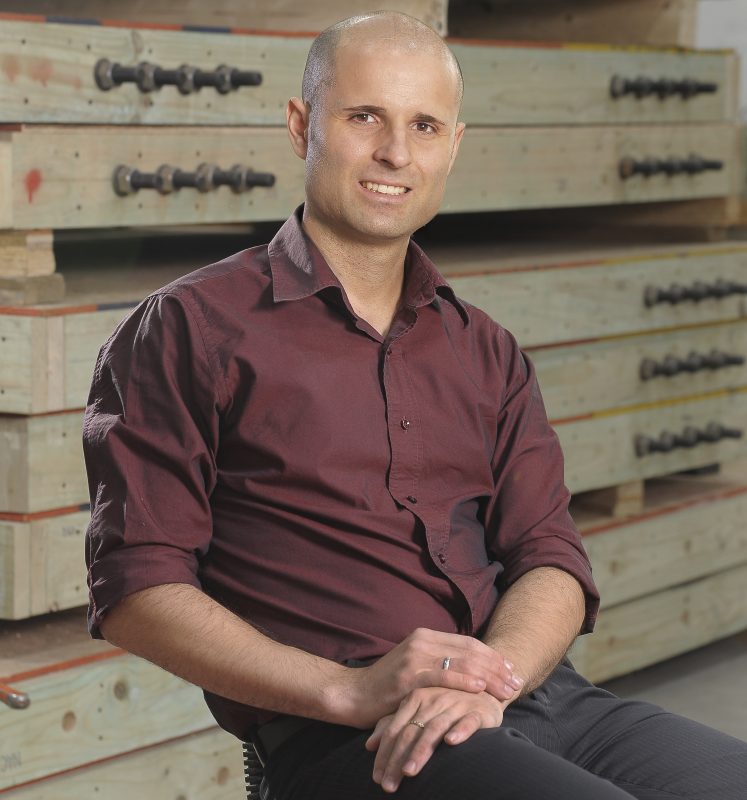 Wood for building construction
For four and a half years, in Braunschweig, Germany, Pablo Guindos developed a project focused on finding and developing seismic energy dissipation mechanisms adapted for mid-rise timber construction, after completing his academic career at the University of Santiago de Compostela in Spain. He now hopes to continue his research and to implement it in Chile in collaboration with other experts in the field.
"Wood is and always has been a personal conviction for me. If wood is renewed in a sustainable way, which is completely possible, and if more buildings are made with the material, it will be very beneficial, not only from an environmental point of view but also from a societal point of view."
During his doctoral research, Professor Guindos studied the properties of wood when used as a base material for buildings. During his stay in Germany, he specialized in the construction of mid-rise buildings, which range from four to seven floors, depending upon the regulations of a country. "This is not a new topic. At the beginning of the century, there were already works in Chile, the United States, Canada and other countries. However, in recent years, besides people having a greater awareness of ecological construction, the world community has created new, more modern wooden products that allow building in wood in a more competitive way," explains the professor.
Specifically, during his research, he emphasized four main points in wooden building construction: calculation and structural design, fire protection, earthquake protection and the physical performance of the material, which has to do with the exchange of temperature and humidity with the environment and its insulation capacity.
Due to the great Chilean forestry industry, which is a power internationally, and to seismic conditions, Chile is ideally equipped to lead, along with North America and Europe, the development of wooden buildings. The relative lightness of the material gives it an enviable resistance against earthquakes, a considerable advantage in this country.
In addition, the Universidad Católica has many world-renowned experts in construction and seismic protection, with whom professor Guindos intends to collaborate. "Here at the school, there are some very notable experts in construction and seismic protection of structures, which could make for a very good symbiosis with wood. I hope to be able to work with them and promote this relatively new area because the school is less developed in wood than in other materials, such as concrete," says Guindos.
According to the academic, currently, the main challenges are finding the most efficient way to build wooden mid-rise buildings and carrying out the tests necessary for establishing wooden construction in society. By doing this, the regulations, which are a considerable limitation from a technical point of view, can be transformed. In Chile in particular, wood certification is promoted since the best products, from a structural point of view, are exported to other more developed countries where very significant engineering works have been constructed.