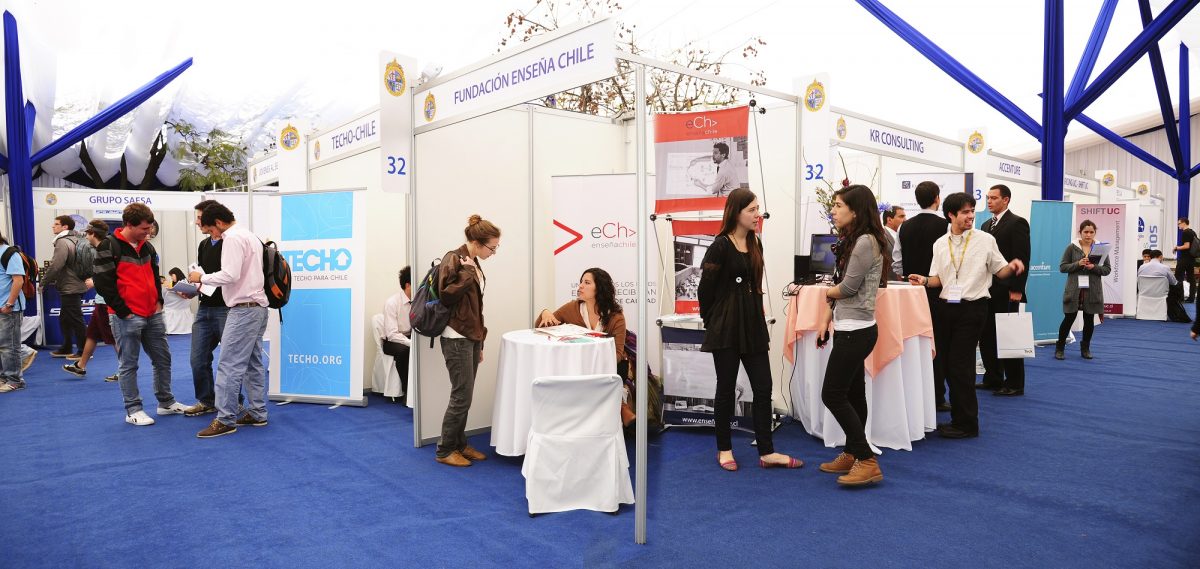 Recruiting events
JOB FAIR
This is an annual event in which the most prestigious businesses in engineering across Chile visit the School of Engineering for a day to present their projects and address questions raised by the university communities, in addition to gaining insight into the interests of engineering students and recent graduates.
The objectives of this event are to:
Strengthen the connection between UC School of Engineering graduates with companies in the productive and corporate sectors of Chile.
Facilitate the yearly selection process of new engineers by businesses.
Grant UC Engineers access to the best available work opportunities possible for the abilities and potential.
Provide the opportunity to participate in the "Job Insertion Workshop," directed by a psychologist specializing in recruitment processes. Students participating in the job fair can attend this workshop.
Businesses participating in the Job Fair provide the following information to engineers: the markets in which the company operates; the company vision and business strategy; the traits the company is looking for in candidates; and the benefits/career paths offered by the company. Likewise, candidate information is collected for open job and internship positions.
Job Insertion Workshop
A "Job Insertion Workshop" is held as part of the annual Job Fair. This workshop is directed by a psychologist who specializes in recruitment processes. Participating students will gain valuable insights that can increase the chances of getting hired. The following subjects are discussed in this workshop:
How to prepare a good resume that addresses the current needs of a business.
How to face a job interview and cause a good first impression.
How to select the sector, area, and business that offers the best opportunity for professional development.
Understanding the competency-based recruitment model used by many businesses.
For more information, please write to colocaciones@ing.puc.cl

BUSINESS RECRUITMENT DRIVE
This annual event, held in the first two weeks of the first semester, is a chance for businesses to give workshops and conduct scheduled interviews with candidates from the School of Engineering.This event is for graduates and certified alumni without restrictions regarding years of work experience.
To access this service, please sign-in to the system using your UC email account.
Information about participating businesses and applying form can be found here.
This service is free for UC engineers.
For more information, please write to colocaciones@ing.puc.cl.