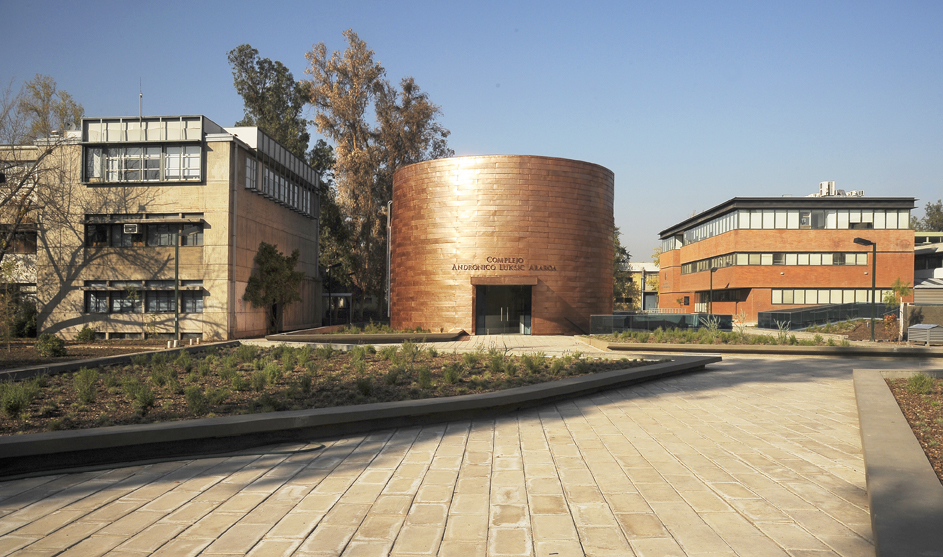 Andrónico Luksic Abaroa Complex
This complex, which is co-financed by the Luksic family and the Universidad Católica, was designed by Enrique Browne, winner of the 2010 National Architecture Award, to resemble a large mining fissure. The Andrónico Luksic Abaroa Complex has more than 3,000 m2 of underground installations and more than 1,200 m2 of green spaces.
A particularly distinguishable feature of this complex is the copper-covered cylinder that can be seen from various points across the San Joaquín Campus. Within this cylinder is a museum that recounts the history of the School of Engineering and the mining trajectory of Andrónico Luksic Abaroa (1926-2005). Within the "fissure" of this complex is the Mineral Geography of Chile Exhibition. This display of rocks and minerals includes samples from across Chile, ranging from the northern salt flats to the Guarello Islands in southern Patagonia. This is a unique exhibition and pays homage to Andrónico Luksic Abaroa.
This complex also has an auditorium that can hold more than 800 individuals and that is equipped with the latest sound, projection, and lighting technology. Furthermore, this complex has rooms and offices for the faculty, instructors, and postgraduate students of the Department of Mining Engineering. This complex additionally houses a "Faculty Club" that has a cafeteria able to serve 150 individuals, a gym, and instructor lounges.